Featuring all twelve birth flowers, celebrate her loved ones by adding to a dainty chain.
birthstone necklaces + charms

Symbolize the people you love in your life with our unique customizable birthstone necklaces. Fill our horizontal birthstone bar necklace with floating birthstone charms, or choose to place your loved ones birthstones in a cross to keep close to your heart.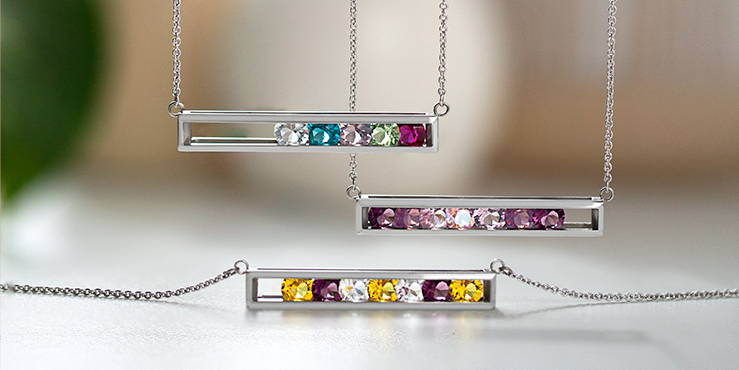 birthstone bar locket necklaces

Our Birthstone Bar Locket is perfect for keeping your family + loved ones close to your heart, showing your team spirit or coordinating with your daily outfit. Each Birtstone Bar Necklace holds up to 7 round Birthstone Crystals and is available in your choice of Gold, Silver or Black.

Meet your new favorite pendant – our Silver Heart Birthstone Pendant! Add one Round Birthstone Crystal and your favorite chain to this simple (and stunning) pendant for a look you're going to want to wear year-round.

Show your team spirit with our fun, vibrant fashion crystals! Available in a variety of colors, they are a perfect way to accessorize favorite outfits.
---



Love This Piece! The Birthstone Bar Locket is one of my favorite pieces of O2 Jewelry. I love being able to have all 5 of my kids represented with the rounds, and the sparkle! WOW! This piece gets a lot of attention while wearing it too lol. A must have!!

My FAVORITE Origami Owl piece! I LOVE LOVE LOVE the Birthstone Bar Locket Necklace! It's definitely my FAVORITE Origami Owl piece! I have it in silver, black and gold and wear one of them every day! I love being able to put up to 7 birthstone crystals inside. Mine holds the birthstones for my husband's, my, and my 3 son's birth months!

Family and fun! This Birthstone Bar Locket is the BEST! I can share (up to seven rounds) showing my Family's Birthstones OR I can arrange my favorite TEAM COLORS for game day! I also LOVE adding the rounds in an ombre effect for the different holidays that I celebrate. The versatility is amazing. I also love wearing it as my shorter layering piece (with my Signature locket on a longer chain) Love it!